How a Personal Injury Lawyer Can Help If You're Being Blamed for an Accident
According to the National Highway Traffic Safety Administration, more than 17,250 car crashes occur each day in the U.S. About 27 percent of all vehicle accidents result in non-fatal injuries. With those kinds of numbers, you are likely to be involved in at least one as a driver or a passenger.
Even a fender-bender accident can leave you feeling traumatized. But, if you've been hurt in the accident, and the party is blaming you, you probably also feel angry and overwhelmed. You're not alone. Many insurance companies try to take advantage of Georgia's modified comparative fault system.
The good news is that the experienced Atlanta car accident lawyers at Hasner Law, PC, can help. Our team will guide you through the complicated legal process and defend you against liability and contributory negligence claims.
What is the Comparative Negligence Law in Georgia?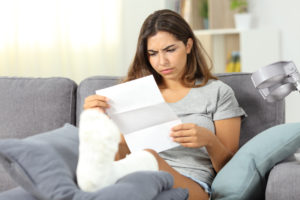 Negligence – defined as the failure to exercise a certain degree of care to minimize injury risks to others — is the legal basis for most personal injury cases. Here's an example. A homeowner who fails to fix his front stairs could be liable for negligence if a package delivery person slips and falls on the stairs.
The states in this country vary in their legal rules for determining fault and eligibility for monetary awards when more than one person is to blame for an accident. All states have adopted some type of contributory negligence system. Georgia uses a version of this law known as modified comparative fault.
Under Georgia law, even an injured person who is at fault for the accident can receive monetary compensation if a court finds that the person is less than 50 percent responsible. If the injured party is found to be at least 50 percent to blame for the accident, then the person cannot receive monetary damages.
If an insurance company can blame you, it might mean that you watch your ability to recover compensation vanish before your eyes.
How a Personal Injury Lawyer Can Help When the Insurance Company Tries to Blame You
Since the party who is most at fault in a car accident is the one that may be liable for the victim's damages, insurance companies often try to shift blame onto the other party to avoid paying expensive claims.
Here's where an experienced personal injury lawyer can help. If you believe the other party is at fault for the car accident, you will need to prove to the court the following elements in order to get a settlement award.
Duty of Care (the defendant had an obligation to act in a way that would keep you safe)
Breach (The defendant failed to act reasonably and breached the duty owed to you)
Causation (The defendant's conduct was the direct and proximate cause of an injury)
Damages (You can point to identifiable damages – physical, emotional, financial – as a result)
In Georgia, the court or insurer will reduce your final settlement proportionate to your degree of fault. So, if you are found to be 40 percent liable for the accident, a $100,000 settlement award would be reduced to $60,000. There are three main ways in which to obtain compensation for the damages you incurred in a car accident.
How Can I Limit My Liability After an Accident?
An experienced personal injury lawyer can maximize your odds of compensation. A lawyer will help you gather evidence and build a strong case for the other party's negligence. It can be difficult and even a little intimidating to stand up to an insurance company that is trying its hardest to pace the blame on you for the accident. The attorneys at Hasner Law know Georgia's modified comparative negligence law inside-out and will stand up for your rights.
You have rights during a personal injury claim that an insurance company may not disclose. For instance, you have the right to negotiate a higher monetary settlement during mediation. You also have the right to receive an explanation for why the insurance company denied a claim.
When you've been hurt in an accident, you have enough on your mind. After a careful review of your case, a personal injury lawyer will assist you with the following legal procedures.
File a claim with your own insurance company. This filing can occur if you are at fault or if the at-fault driver's insurance does not cover all of your losses.
File a claim with the other party's insurance company. If you can prove that you are not at fault, the other party's insurance company will have to pay your damages, up to the insured party's policy limits.
File a civil lawsuit against the other driver if necessary. If the insurer refuses to offer you a fair settlement, you have the right to sue.
An attorney can help you initiate legal proceedings against an insurance company or negligent party.
Evidence That Help You Defend Against Claims of Fault After a Crash
Every case is different, but here is a list of the evidence you should collect to help your attorney defend your case:
The police report for the accident (Contact the Atlanta Police Department's Central Records Unit at 404-546-7461 to request a copy if you do not get one at the scene.)
Photos and video of the accident scene and vehicle damage
The other driver's name, contact information, license number, tag number, and insurance provider and policy number
Names and contact information of eyewitnesses
Surveillance video from nearby businesses or traffic cameras
Cell phone records (to prove distracted driving)
Commercial vehicle maintenance records
Many people believe that a rear-end accident is always the rear driver's fault. However, that is not necessarily the case. In some cases, the front vehicle may have failed to signal or braked abruptly. Even if the rear driver is ticketed for following too closely, a personal injury lawyer's investigation could find that the lead driver was more at fault.
If your accident involves a taxi company or an Uber, the driver is responsible for any negligence on their part. Usually, the driver's employer has insurance to cover injuries that may occur in this type of accident. Your attorney will review the case and explore your options with you.
What if the other driver is uninsured? In Georgia, this unfortunate incident usually means you will be responsible for your own medical expenses. Your personal injury lawyer can help you understand your rights and take whatever steps are appropriate for your case against an uninsured driver.
Working with an Atlanta Personal Injury Lawyer
You do not have to hire an attorney to handle your personal injury claim in Georgia. However, insurance companies can exert enormous pressure on you if you don't have an attorney. These companies employ teams of claims adjusters and lawyers whose jobs are to minimize payouts and deny claims whenever possible.
Whether you are involved in an auto accident, or you slipped and fell on someone's property, you can fully expect that the other insurance company will attempt to shift the blame on you.
At Hasner Law, we are familiar with these tactics, and we know how to respond to them and refute them. Although we would hope that your case would not go to court, we are experts in presenting evidence and testimony if it does.
Why not consider a free consultation with our legal team? That way, you will get to meet us and know how we can help you get the best possible outcome for your personal injury case. Whatever you decide, you can be assured that we will always work in your best interests.