Can I Be Compensated for Pre-Existing Conditions After a Car Accident in Atlanta?
Before deciding to move forward with a personal injury lawsuit, people who are injured in traffic collisions in the state of Georgia generally have many questions. The experienced car accident attorneys here at Hasner Law PC in Atlanta are often asked:
"Can I be compensated for pre-existing conditions after a car accident?"
We always want our friends and neighbors in the City of Atlanta to be as well-informed as possible. As such, we have endeavored to provide a thorough answer to this common question below.
What Are Pre-Existing Conditions?
In the context of personal injury law, pre-existing conditions can be broadly defined as any injury, illness, or health issue that affected the victim at some point before they were involved in an accident. Some common pre-existing conditions include:
Arthritis
Fibromyalgia
Hernias
Knee, shoulder, and elbow injuries
Previously fractured bones
According to the Centers for Medicare and Medicaid Services (CMS), as many as 129 million non-elderly Americans have some kind of pre-existing health condition.
If you have a pre-existing health issue and were recently involved in a car crash in Georgia, please contact the personal injury attorneys here at Hasner Law PC today. We would love to learn more about your accident and your injury history so that we may provide you with the legal advice you need to protect your future.
Is it Possible to Recover Compensation for Pre-Existing Conditions After a Car Accident in Atlanta?
In most instances, it is not possible for Georgia car accident victims to recover any financial restitution for their pre-existing injuries or illnesses. Since those health conditions were present before the collision occurred, neither the at-fault driver nor their insurance company is liable for them.
Generally speaking, a person who sustains a car accident injury can only recover damages for losses that were caused by the crash, such as:
Medical Bills
As part of a car accident injury case, plaintiffs can typically recover compensation for their initial medical care. Depending on the nature of their injury, this money may pay for scans, physicals, medication, blood transfusions, and surgeries.
Ongoing Healthcare Costs
It is not at all unusual for individuals who sustain severe brain or spinal cord injuries in car accidents to require months or years of occupational therapy to reach the point of maximum medical improvement. They can typically recover the financial restitution they need to pay for this treatment through their lawsuit.
Lost Wages
When Georgia residents suffer injuries in car accidents, they are often forced to miss work to attend medical appointments and focus on their recovery. When this happens, they can generally demand compensation for lost wages from the at-fault party.
Loss of Future Earning Capacity
From plumbers to factory workers to truck drivers, many Georgians rely on the health and wellbeing of their bodies to make money. If their car accident injury forces them to leave their profession and select a less lucrative career path, they generally obtain restitution for their loss of earning capacity as part of their lawsuit.
Pain and Suffering
When they sustain injuries in car crashes, Georgia residents can experience a great deal of both mental and physical pain. When they file an accident claim against the at-fault party, they can usually recover compensation for their pain and suffering.
Loss of Enjoyment of Life
Severe car accident injuries often negatively impact the victim's overall quality of life. This is especially true if they are left with a permanent disability. Fortunately, when victims file suit against at-fault parties, they can demand restitution for this loss.
What to Do if an Insurance Company Claims That a Car Accident Injury Was a Pre-Existing Condition
In their TV commercials, insurance companies often claim to be there for victims during their time of need. Unfortunately, this cheery image is nothing more than a marketing ploy designed to persuade people to purchase policies. In reality, insurance companies are corporate entities that will do just about everything they can to maximize profits.
As part of their efforts to boost their bottom line, it is, unfortunately, not unusual for insurers to claim that legitimate car accident injuries were actually pre-existing conditions. They do so because, once a health issue has been classified as pre-existing, they are no longer on the hook for damages.
Fortunately, there are two simple steps that victims can take to prove that the insurer is misclassifying their injury. They are:
Providing Detailed Medical Records
The quickest and easiest way for a car accident victim to show that they did not have a prior injury is to present the court and the other party's insurance company with their complete medical history. To obtain their medical records, victims need only have their attorney send a brief request to their hospital or urgent care clinic.
Obtaining Written Testimony from Their Physician
If the other party's insurance company continues to claim that the victim's injury was pre-existing after looking at their medical records, hope is not lost. The victim can have their doctor testify to their lack of pre-existing health conditions. The opinion of a skilled medical professional often proves decisive in cases of this nature.
What Happens if a Victim Attempts to Hide a Pre-Existing Injury or Medical Condition?
It is never a wise idea for car accident victims to try to conceal the fact that they have a pre-existing injury. If they get caught, they are likely to face one of the following three consequences:
A Reduced Compensation Payout
Lying about pre-existing conditions can make victims seem shady or untrustworthy in the eyes of a jury. As a result, they may decide to award the victim significantly less compensation than they would otherwise have received.
The Dismissal of Their Case
If a victim's attempts to conceal a pre-existing injury lead the judge to believe that they are not acting in good faith, their case may be dismissed entirely. Should this happen, they will not receive any financial restitution and will be forced to pay their expenses out of their own pocket.
A Criminal Charge
If the victim's efforts to hide material facts are particularly egregious, the state of Georgia may choose to charge them with insurance fraud. Should the prosecution land a conviction, the victim could face up to ten years in prison and a fine of up to $10,000.
Over the years, the attorneys here at Hasner Law PC have helped countless Georgians with pre-existing conditions file suit against the at-fault party. During that time, we have achieved some outstanding results. If you would like to set up a free consultation to learn more about our legal services, all you need to do is pick up the phone and give us a call.
Is it Possible to Recover Compensation if an Auto Accident Aggravates a Pre-Existing Condition?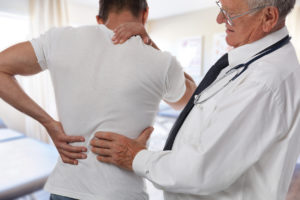 It is not at all unusual for car accidents to aggravate pre-existing conditions. When such a situation occurs, the legal concept known as the eggshell doctrine can make it possible for victims to recover compensation.
To be eligible for financial restitution under this doctrine, the following statements must generally be true:
The victim's pre-existing injury or health condition was stable, and
There was previously no reason to believe that their condition would worsen
The eggshell doctrine also explains that insurers cannot withhold compensation from a victim just because their pre-existing condition makes them more susceptible to injury than the average person.
Do you need help fighting for compensation after a car crash that worsened your pre-existing condition? Then please reach out to the lawyers here at Hasner Law PC. We are always ready, willing, and able to assist.
How Long Does it Typically Take to Recover Compensation for an Aggravated Pre-Existing Injury in Georgia?
No two car accident lawsuits are ever alike. As such, the length of time it takes to recover financial restitution can vary significantly from one case to the next.
Most personal injury suits in the state of Georgia are resolved in around six months to a year. However, this timeline can be lengthened significantly if any of the following factors are in play:
There are multiple liable parties
The other party's insurer is being uncooperative or difficult
The victim takes longer than expected to reach the point of maximum medical improvement
There are multiple unrelated victims
One or more parties makes a series of administrative errors
Would you like to have a Hasner Law PC attorney review your case and let you know how long it is likely to settle? Then please do not hesitate to reach out and set up a free consultation at our Atlanta law offices.
Contact Our Atlanta Car Accident Law Firm For Help Today
Have More Questions About Whether or Not You Can Be Compensated for Your Pre-Existing Condition After a Car Accident? The lawyers here at Hasner Law PC are experts in all facets of Georgia's personal injury law. If you would like to have us analyze your accident and provide you with our opinion on the financial restitution you may be eligible to receive, please contact us as soon as possible.
Related Articles